When you actually step into the world of online business or eCommerce, you should be aware of choosing the right platform for your business. You simply cannot play blindfold when it comes to building your website. Because on the basis of that, you are going to decide the fate of your business, future, and potential success.
You will come across many business owners who might not be happy with their existing business platforms. So make sure that you should not fall into that category as well. Whether your business is small or large, you should not consider choosing the right eCommerce platform for your eCommerce store lightly. It may cost you, later on.
If you fail in choosing the right platform wisely, the platform will limit the growth and success of an online store in the future. That's the reason, proactive research on the choice of the platforms or what types of features they are providing is extremely important.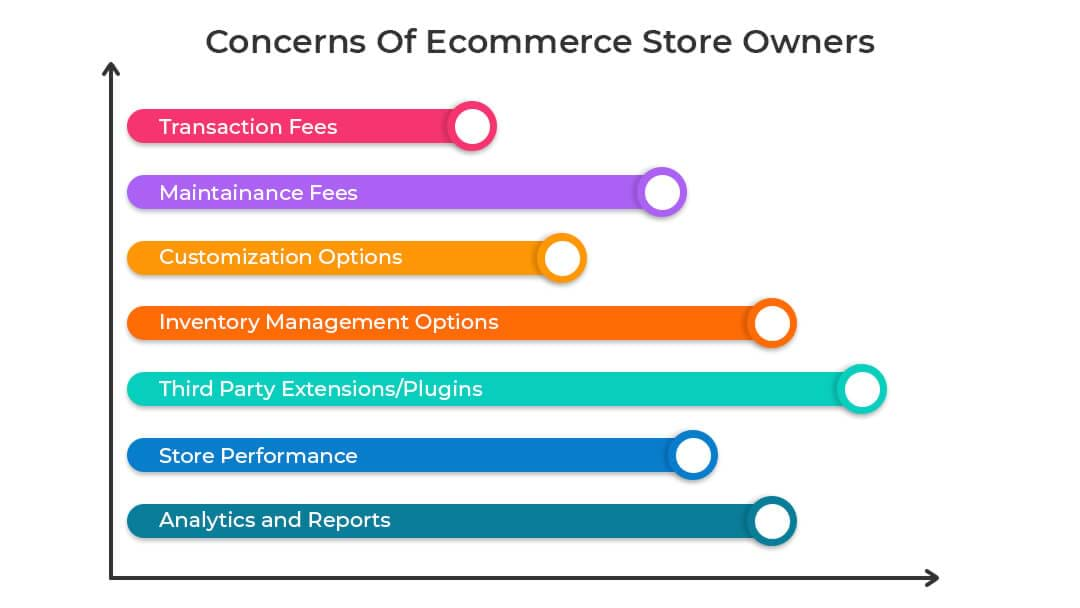 Any eCommerce Development Company you hire will ask you to decide on the platform first. Obviously, they will guide you through this. But in the end, it's you who have to take a call on which one to choose. If you are searching for options, you will find some big names popping up. But, it's two who are ruling the eCommerce businesses with their exclusive features and tools. It's Shopify and Magento. Magento Development Company guides you with the proper functionalities of the Magento platform.
Choosing the right eCommerce platform for your business means finding the right balance between your requirements as a merchant, with those of your customer base. In this article, we will compare two platforms – Shopify Vs Magento in detail. We are pretty sure, you will understand the basic things if you read till the end.
Here, we go!!
What is Shopify?
Shopify is a complete eCommerce platform that allows developers or business owners to build their online websites without having any technical knowledge.
It comes with two options.
It's a hosted solution that gives freedom to business owners to customize online storefronts, sell products, and manage the eCommerce business.
Shopify Plus: Shopify Plus is a multi-channel platform with a higher customization level, support, and more useful features than Shopify.
What is Magento?
Magento is an eCommerce platform developed using open-source technologies in 2007. It's a highly customizable, flexible, and scalable platform.
It comes in two versions:
Magento Open Source: It's a free and self-hosted platform that provides all the functions to develop an eCommerce website from scratch.
Magento Commerce: This is the premium paid edition of Magento. This is used and recommended for business owners and developers who want a one-stop cloud solution for optimizing the store websites and boosting their sales.
Shopify Vs Magento: The Numbers
Before we take you to the comparison of Shopify Vs Magento, let's give you some numbers on what they say. It's a great way of checking the credibility of the platform.
Basic Difference Between Magento and Shopify
Popularity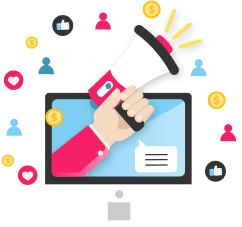 At the moment, Magento is the most commonly used eCommerce platform. 14% of the websites use Magento while only 6% use Shopify.
If you really want to compare both brands in terms of popularity, then the best way is to know which popular brands are using the platforms.
Big companies like Nike, Rosetta Stone, Olympus, and Ghiradelli use the Magento, whereas, Shopify has a few big names like Tesla and the Los Angeles Lakers' Store. Both store platforms boast successful companies.
Coding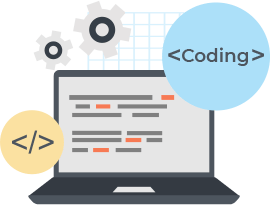 It's quite a huge difference in Shopify Vs Magento, in terms of coding. Magento uses PHP, while Shopify uses a coding language called Liquid.
Shopify is proprietary, while Magneto is an open-source platform. This is the most important when it comes to deciding which platform to choose as it may affect your decision as well.
An open-source platform means it's freely available and you can modify the code and make any changes as per your needs and requirements, but a proprietary platform doesn't allow you that facility. With Magento, template code can be altered to suit the specific needs of stores, while with Shopify, it cannot.
And this is the reason, Shopify is the perfect and suitable solution for simple stores, but not for complex ones that require changes in the source code.
Pricing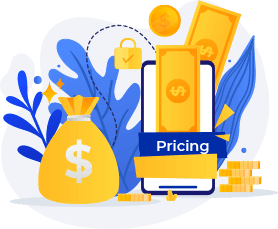 You will have to restrict yourself to your eCommerce business with a budget since some platforms are a lot pricer than others. When you are choosing the platform, make sure to factor in all of the costs, not just the initial costs to get set up. Ongoing costs include things like maintenance, security, and hosting.
Shopify: Affordable Solution
As you can see, Shopify has some pricing models depending on business complexity, but the Basic Shopify Plan starts at $29 and has the fewest features. The second plan is more advanced plans range from $79 to $299 per month. Shopify Plus is designed for larger businesses, starting at around $2000 per month.
If you go with the higher model, you will get access to more features such as abandoned cart recovery, advanced reporting, and gift cards.
If we talk about transaction fees, Shopify will charge transaction fees for payments made through external payment gateways. Its fee percentage ranges between 2% to 0.5%.
If your Shopify monthly cost is more then it means a lower transaction fee. If there are a lot of transactions in your eCommerce store, then the Shopify fees amount total can be a lot.
By using Shopify's direct payment gateway, you can avoid the Shopify payment fees as well.
Magento: Expensive
As you know Magento is an open-source, self-hosted, and free-to-download framework. However, you just have to pay for third-party hosting services. The cost of Magento completely depends on which product you use. Additionally, you will have to cover all hosting, security, development, and design fees. It can be as low as $3.95 from companies such as SiteGround and HostGator.
The hosting solution you choose is very important as it can affect the site speed, storage, and the number of products your site can manage. So, if you are using Magento, you can choose any hosting solutions as per your needs, unlike Shopify hosting.
If you are looking for the final cost of Magento and Shopify, you need to include the add-ons too. Moreover, Magento users will also hire Magento developers to develop the website and maintain the store. The cost of developers should be counted in the approximate project cost.
Magento doesn't charge you anything to download and use it. But it cost you to purchase a hosting plan. And if you are opting for any hosting plan, don't prefer the cheapest plan. Rather look for better bandwidth and extra optimization package as well.
Since Magento works better with great hosting, you should keep an eye on various hosting services for acceptable usage, limit, and features. This will surely affect your site, once it's publicly available and has a great amount of traffic.
So, if you are looking for a cheaper option, Shopify is the winner here. It's also a lot more predictable, with a clear, monthly payment in addition to a transaction fee per sale.
Security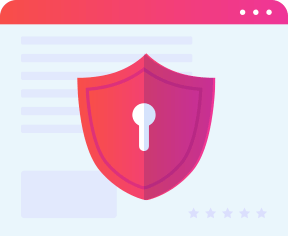 Security must be the utmost priority when you are planning to open an eCommerce store. As per the report, 61% of shoppers will not purchase any products from a website that is missing a trust seal such as an SSL certificate.
An eCommerce website cannot afford any vulnerable attacks that can decrease customer traffic and destroy faith in the brand too. So, you can put some extra effort to make your website secure and safe.
Shopify: Secure
Since Shopify is a SaaS-based platform, it includes security – that's the advantage of Shopify. Shopify meets all 6 categories of PCI standards and includes SSL security on their hosted sites.
Magento: Dependent on Your Standards
It completely depends on the developers and how secure they want to make it. Even for simple things like SSL, you will have to take care of certification and upkeep. Patches will be created by Magento for known security risks (like the SQL site injection vulnerability that left 300,000 Magento stores at risk in 2019); however, it's the responsibility of Magento developers to keep your site up to date.
SEO
Most of the users purchase the products with an online search. Therefore, it's very important to make your website search engine friendly and your products are found in the top ranking of search engines. Some eCommerce platforms are just better for SEO.
Let me break the ice now, when it comes to SEO, generally, eCommerce platforms are equal – especially when you consider add-ons.
Shopify is better from an absolute beginner's perspective, those with some SEO knowledge will be able to get more out of a Magento installation.
Magento doesn't allow you to edit metadata. It also allows you to make vital products and on-page customization that can provide you with an SEO boost you will not find in a SaaS product.
So, obviously, Magento holds the top position for SEO optimization, due to the ability to customize the SEO process manually, while Shopify stands at the second rank.
Speed and Performance
Your eCommerce speed and performance are some of the major factors that might affect your SEO. It's a proven methodology that if your website or web pages take a while to load pages, then you may lose your potential customers. They will choose your competitors over you.
Shopify: Average
Since Shopify is a hosted solution, you don't need to worry about the speed, performance, and loading time of your website. And because, if it offers a hosted solution, you are almost unable to control your hosting environment as well as adjust the server level. And if you face any issues related to speed, you have to contact the Shopify support team.
Magento: Smoother and Faster
Unlike Shopify, Magento is known for its control and hosting flexibility. Magneto is a self-hosted platform, it allows you to choose your own server and make all necessary adjustments to boost your website performance.
Obviously, it will cost you much more for reliable hosting services from Magento Web Hosting Providers, but you can experience and enjoy the fast loading speeds, stable performance, and freely customize your website.
Hence, Magento comes ahead and wins over Shopify when it comes to speed and performance.
Quick Summary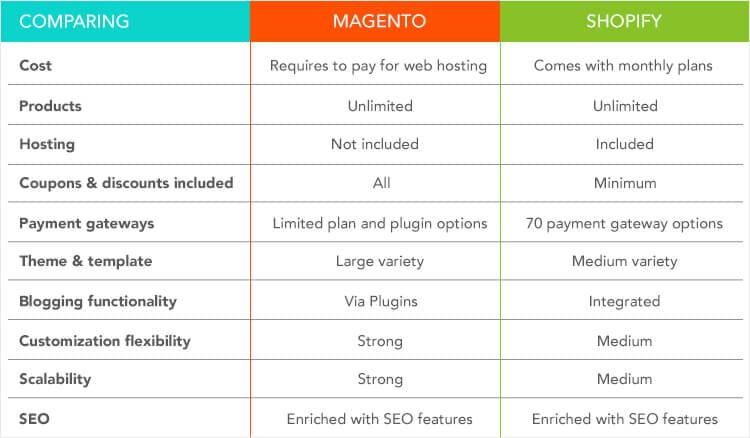 Also Read – Why Magento is the Best Platform for eCommerce Website Development
Conclusion
We have concluded that it really depends on what types of features you are looking for and the services you are providing. Magento can be considered a better choice to create personalized customer journeys that visitors won't find anywhere else. Shopify is good for merchants looking to create an eCommerce website with less coding or technical knowledge behind it.