Slowly but assuredly, decentralized exchanges (DEXs) have increased in size in the past
year and began to divert loads of liquidity from centralized exchanges to their way.
Kickstarted by the boom of DeFi, and the boom of yield farming, nowadays there are so
many DEX options to choose from the market. However, the DEXs market still lacks much of the basic infrastructure that investors need to make genuine alternatives.
Like it or not, the abounding options of DEXs in the market come with the difficulty of
adoption and challenges in user experience. Veteran investors who traded cryptocurrencies
for years can still be baffled by the entrance of DEXs like Uniswap, Quickswap, 1inch and Pancakeswap, spending vague amounts of time learning how the platforms work; not yet counting a complete beginner who never set foot on the market before.
Arken Finance is a DEX aggregator which offers an all-in-one trade portal for all DeFi
investors. The platform aggregates multiple DEXs into a single platform and allows traders to track the movements of thousands of tokens and synthetic assets and forecast the market movement. In doing so, Arken tackles the principal vulnerability of today's DEXs: significant slippage, non-real-time information, and the lack of market indicators. Arken Finance offers statistical, technical, and graphical tools to our users with constant support and continuous improvement in user experience!
Here are some of the features that we want you to try:
Never Miss an Investment Chance with Arken 'Real-time' Trading View & The Best Rate Swap Box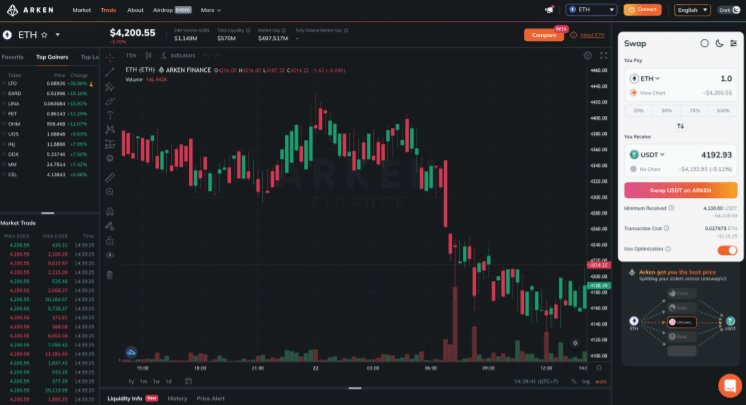 But that's not all. In the crypto space where the timing is key — Arken understands that the quickest information decides who is going to win. While many DEXs cannot offer real-time cross-chain trades, Arken can. And by 'real-time', we really mean it. Our tool incorporates real-time trading views across multiple DEXs, offering users a single point of entry to manage digital assets with ease. Traders can analyze price movements to decide when to buy or sell at the optimal price, as well as compare synthetic asset price with the real-world price. This includes a full range of statistical tools and indicators for your own trading experience.
Not only will users get nice and easy-to-use trading views, but Arken also gives you the
best-rate swap and eliminates the challenging and tiring tasks. Instead of manually and
tirelessly monitoring the price and the charges on your own, Arken's swapbox helps to do
that and provides you with the summary of your target trading pairs by pricing from multiple pools to find the best price across all pools and splits trading amounts across multiple routes in a single transaction to make the trade make an even better price.
Currently, Arken Finance is available on 4 chains, including Ethereum, BSC, Polygon, and
Avalanche with more than 30 DEXs integrated. There are a total of more than 266,000+
tokens listed across all of these platforms that can be traded across 25,000 different routes
to Optimize the Best Rate. We also function as a terminal for accessing 499,945 trading
pools to choose and plan your assets. Everything is there for you to discover and use for the greatest trading experience in the DeFi universe.
Reducing Slippage
Due to price volatility and Automated Market Maker (AMM) algorithm in many DEX, traders often run into high price slippage when trying to swap large quantities or execute a high volume of transactions at high speed, making the order either impractical or losing most of the profit they should have yielded. With ARKEN, traders will get the best possible price with the fastest execution time and the least slippage. Firstly, our automated system looks for the DEX with the best price possible and begins the order execution; then constantly reevaluates the price conditions and looks for a better alternative as the trade proceeds. This spreads any slippage out across multiple DEXs for traders.
Supporting Advance Trading with Technical Indicators and Charts
Last but not least, specially developed to support advanced trading, ARKEN platform can be customized with over 160 different technical indicators and unique specialty charts. Veteran users can foresee market movements, monitor price volatility and look for warning signals for crash.
Arken's Gas Optimization Mode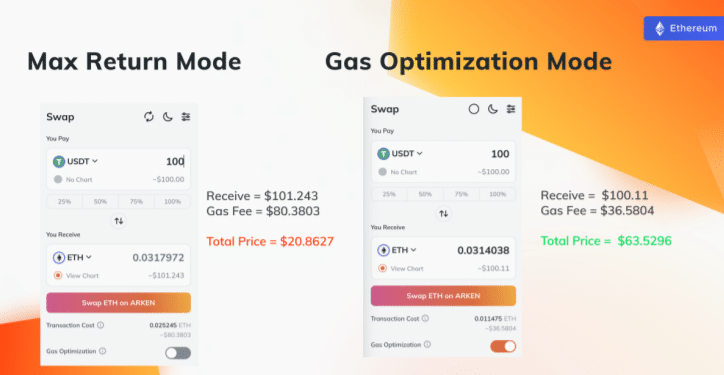 When using Arken's swapbox, the 'default mode' is set to search for the BEST RATE routes
without taking transaction fees into consideration, which may result in relatively higher gas
fees in some cases.
For those of you who invest in many smaller lots or invest in high transaction fee chains,
Arken's Gas Optimization mode, when selected, will take into account the gas fee and
combine it with your trading route to offer you the "optimized" rate for your trading. You may not receive the best exchange rate in this mode, but combining the rate and gas fees, the outcome is more worthwhile.
Users Can Easily Compare Tokens Performance For Better Decision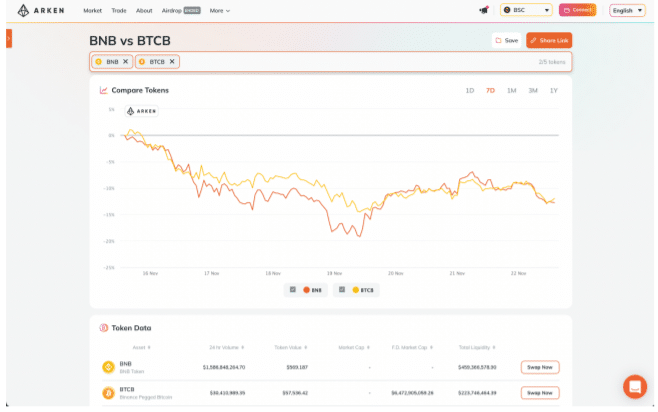 Deciding on which token to buy or invest in can be a challenging decision. There are so
many factors to take into account and you have to do a lot of research for its story, its
information, and its statistical performance. If that is not enough, anticipating the market
trends and investors' behaviors before making a decision just to invest in a token sounds like a lot to bear.
Arken Finance's Tokens Comparison Feature is our new feature that allows you to compare
and evaluate interested Tokens statistically and technically before investing your own assets. With this feature, you can review and compare up to 5 Tokens at the same time, allowing you to make buying and selling or even staking decisions in a well-thought-out kind of way.
Why you choose use Arken?
With all being said, the Arken Finance team is actively pushing the complete product to
serve the market, so that users will experience the best-in-class trading tool that offers the
best price among DEXs, minimizes slippage, and a real-time, user-friendly interface to
control it all. We will be the one-place-for-all tokens that you can discover treasures from.
Swap your way to the moon.
For more details? Check out Arken.finance NOW!